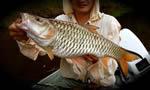 Sebarau Resources
This website is filled with information about the Hampala spp (Hampala barb, jungle perch, adong, juak, kasoop) or as it is commonly known in Malaysia:- Sebarau. There are also many articles on other local species and techniques and tackle reviews.
Anglers or even naturalists wanting to know about this outstanding sportfish can visit here valuable information that sport anglers glean from their experience in searching for this fantastic sportfish.
We have also be listed other lure eating fish species common to Malaysia which can be found in the"other species" link.

Added:

10th June 2023- Queenfish lure casting!
26th August 2022- The best sebarau lure, improved!
18th June 2022- How to catch Tenggiri Batang by casting & jigging

29th April 2022 - How to catch Tenggiri Batang by trolling

28th March 2022 - Spinnerbaits in Depth

21st Feb 2022 - Big Tenggiri Papan in Malaysia
12th Feb 2022 - How to catch Big Cobia in Malaysia



25th Nov 2021 - Updated Revo Beast Rocket Family species application review with a beasty monster catch. My thoughts on this light tackle reel's performance. Video link of the reel in action here too.
26th Oct 2021 - Using the high speed Halco Max 110 to catch Tenggiri (Narrow-barred Spanish Mackerel)

For more articles on different fish species, techniques, tackle and reviews check out the -
Articles tab
and
Other Species tab


Hampala macrolepidota





Conservation


We need to protect and conserve our resources by practising catch and release of our sportfish and protecting the habitat of our fishes.
Success Stories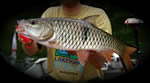 Contributions in the form of pictures and articles are more than welcome.