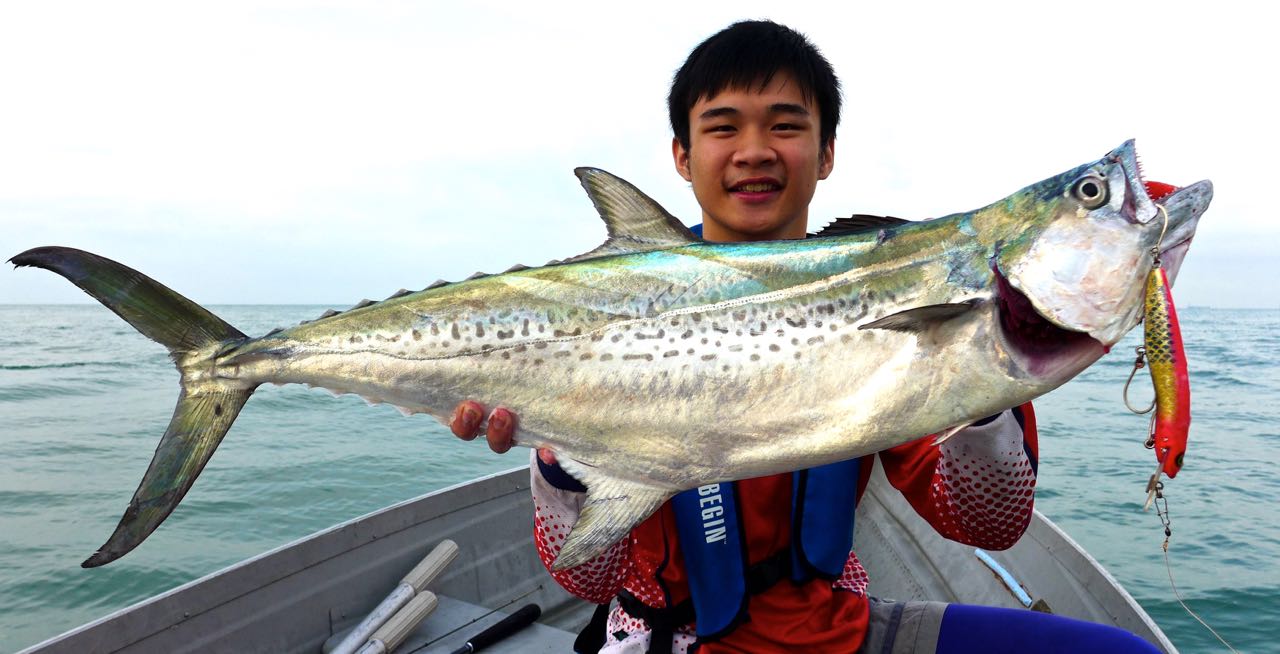 Big Tenggiri Papan in Malaysia
By Christopher S.G. Tan


The Indo-Pacific king mackerel (Scomberomorus guttatus - tenggiri papan or bunga) in Malaysia is not as commonly caught by anglers as the better known Narrow-barred Spanish mackerel (tenggiri batang). The more commonly caught tenggiri batang is readily identified by the vertical bars on its body, whereas the tenggiri papan (Indo-Pacific king mackerel) is easily distinguished by the dots or small blotches on its body.
Even when I see anglers catching the Indo-Pacific king mackerel (tenggiri papan) the catches are mostly small mackerel of around 40cm.
On the rare occasions I have hooked up a big tenggiri papan, I found that the fighting quality is impressive. I felt that it fought harder than the more common tenggiri batang. It ran a long time before turning and paralleling me and I had to slowly but steadily bring it in. I was wondering what species it was because the fight was different from what I normally caught in that locale.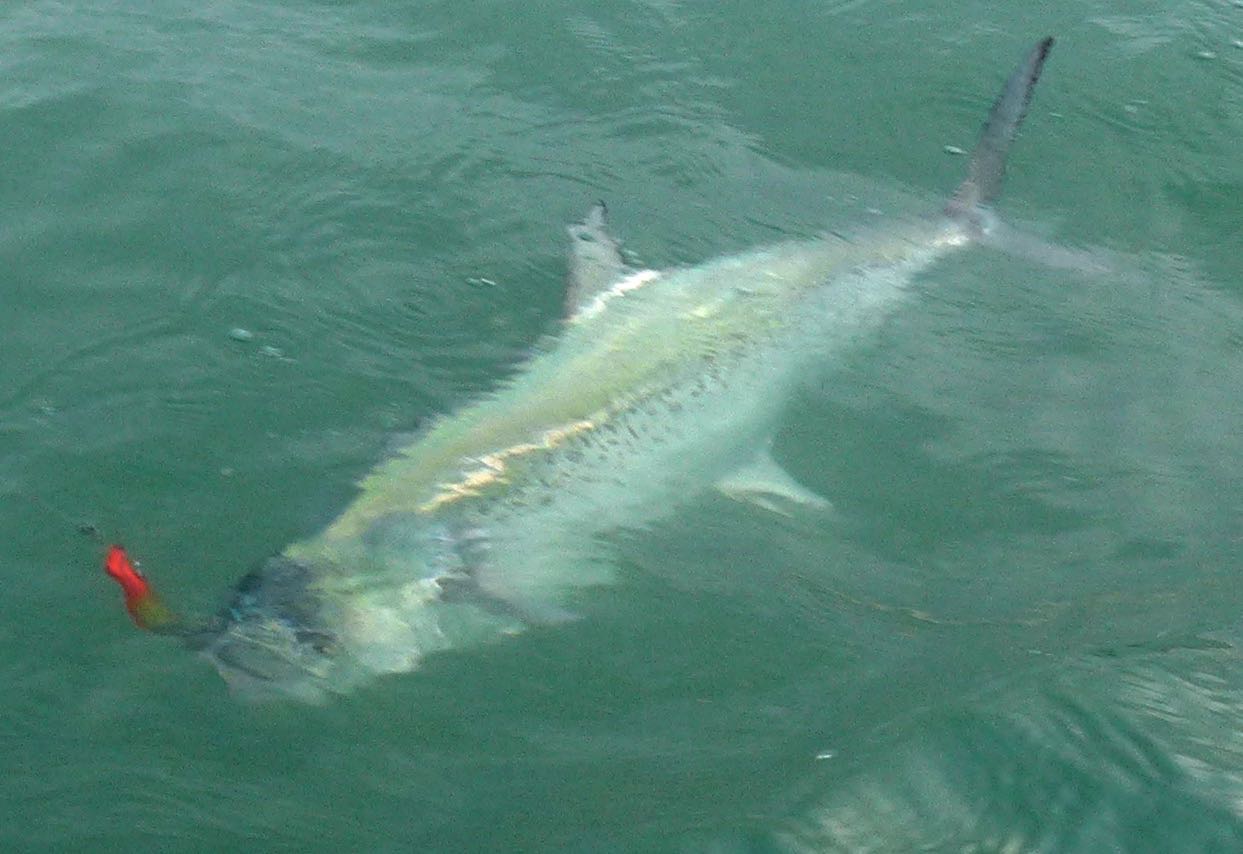 When it showed its
colour
, I initially thought it was a queenfish with the silvery body that seemed somewhat broad. Only when it got to the surface did I
realize
that it was a tenggiri papan, and a
sizable
one at that!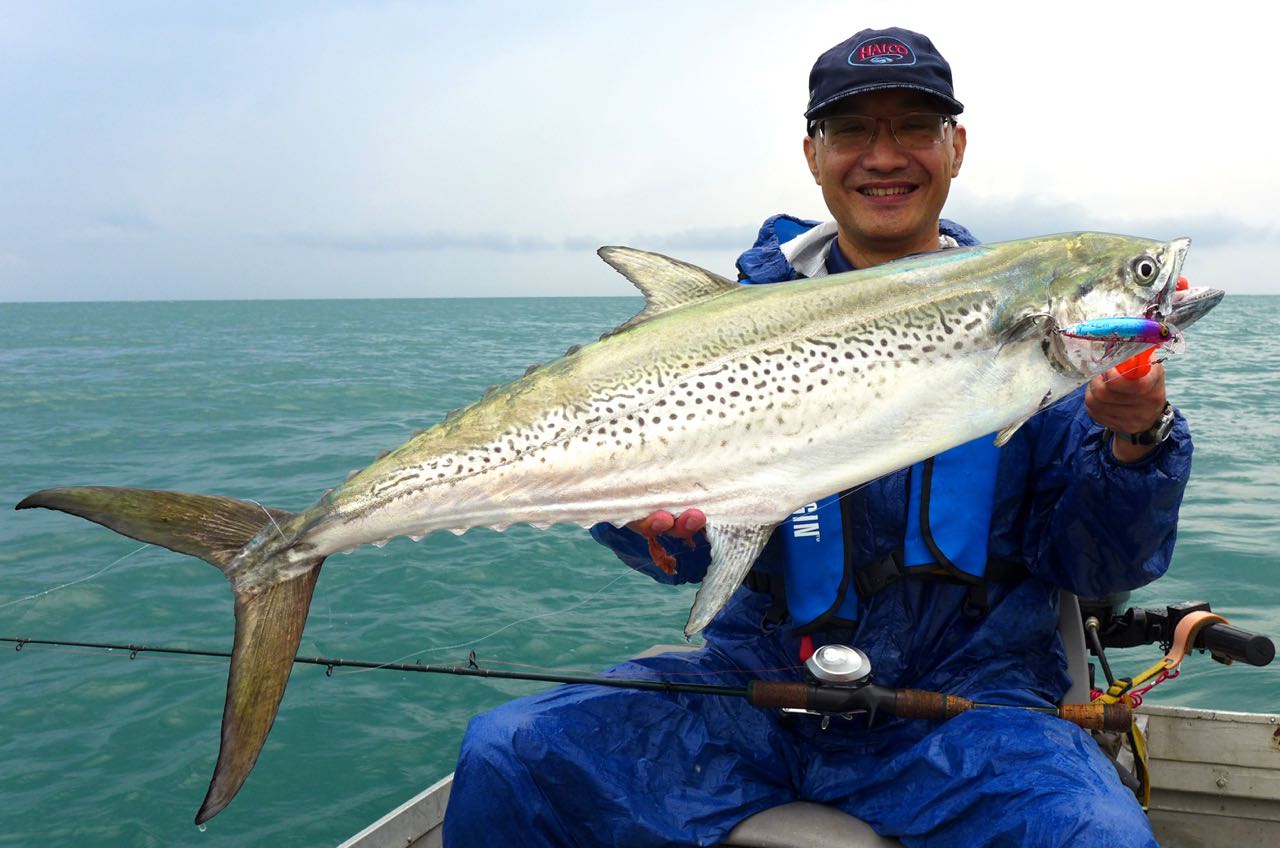 The body of the tenggiri papan is a bit broader vertically than its cousin the tenggiri batang. The lunate tail fin of the tenggiri papan seems a bit larger too. This would explain why the fight seemed a tad stronger than the speedy tenggiri batang runs.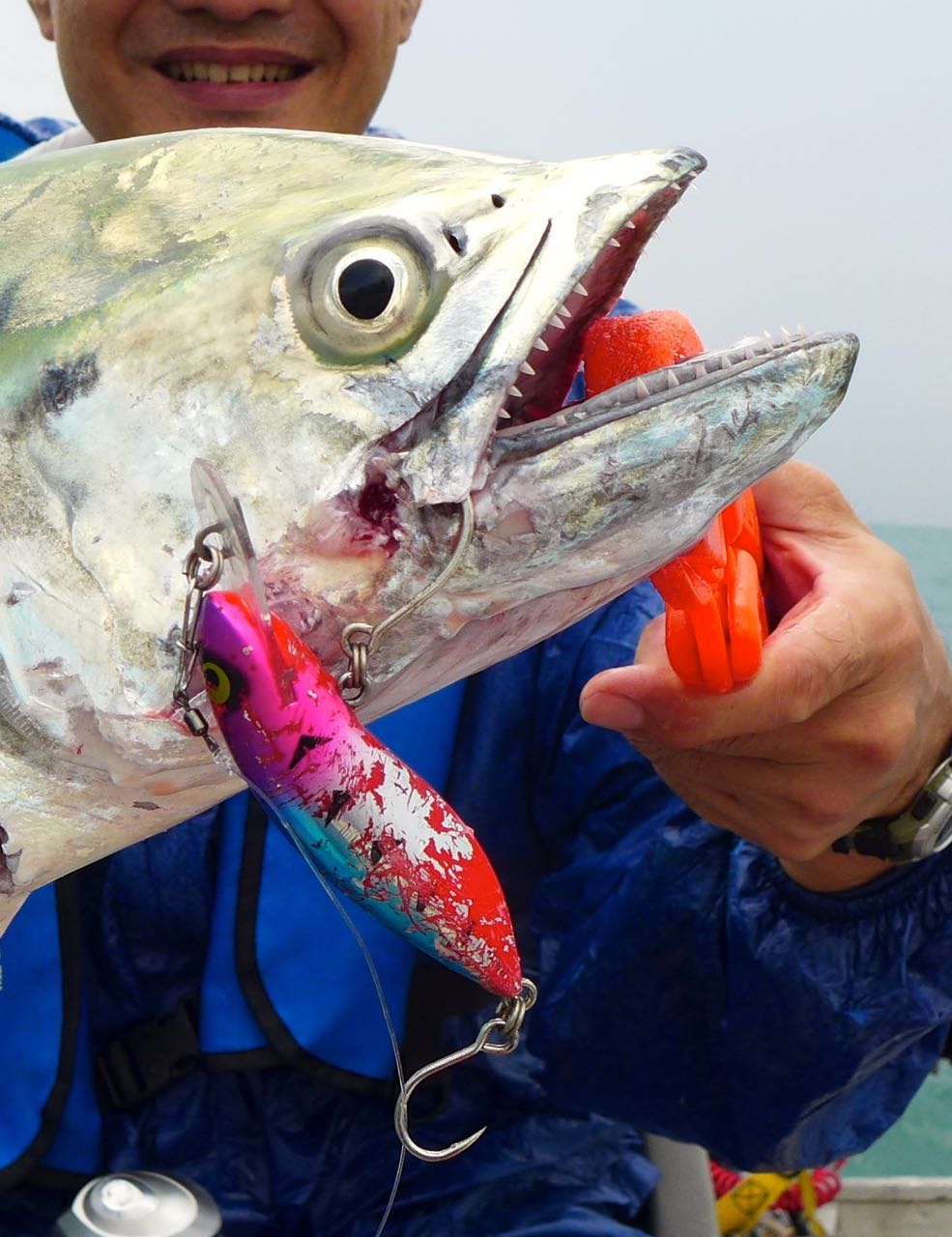 The tenggiri papan's mouth also is smaller with a shorter jaw than the tenggiri batang, but it has a similar row of razor sharp teeth along the jaw, capable of slicing the prey cleanly!
It was caught on a Halco Sorcerer 90 which is about the same size as the tamban baitfish that were schooling along the drop off where I hooked it up.
Another very memorable and exciting experience I had with a big Indo-Pacific king mackerel was after bringing it boat-side. As I gaffed it just behind the head and was lifting up into the boat it went crazy! It shook vigorously until it shook off the lure! The gaff handle was wildly shaking in my hand and I didn't dare bring it into my small boat as I did not want my feet exposed to a fish with razor sharp teeth that was vigorously thrashing around. Then it shook itself so hard that it managed to lurch off the gaff point and to freedom, much to my chagrin!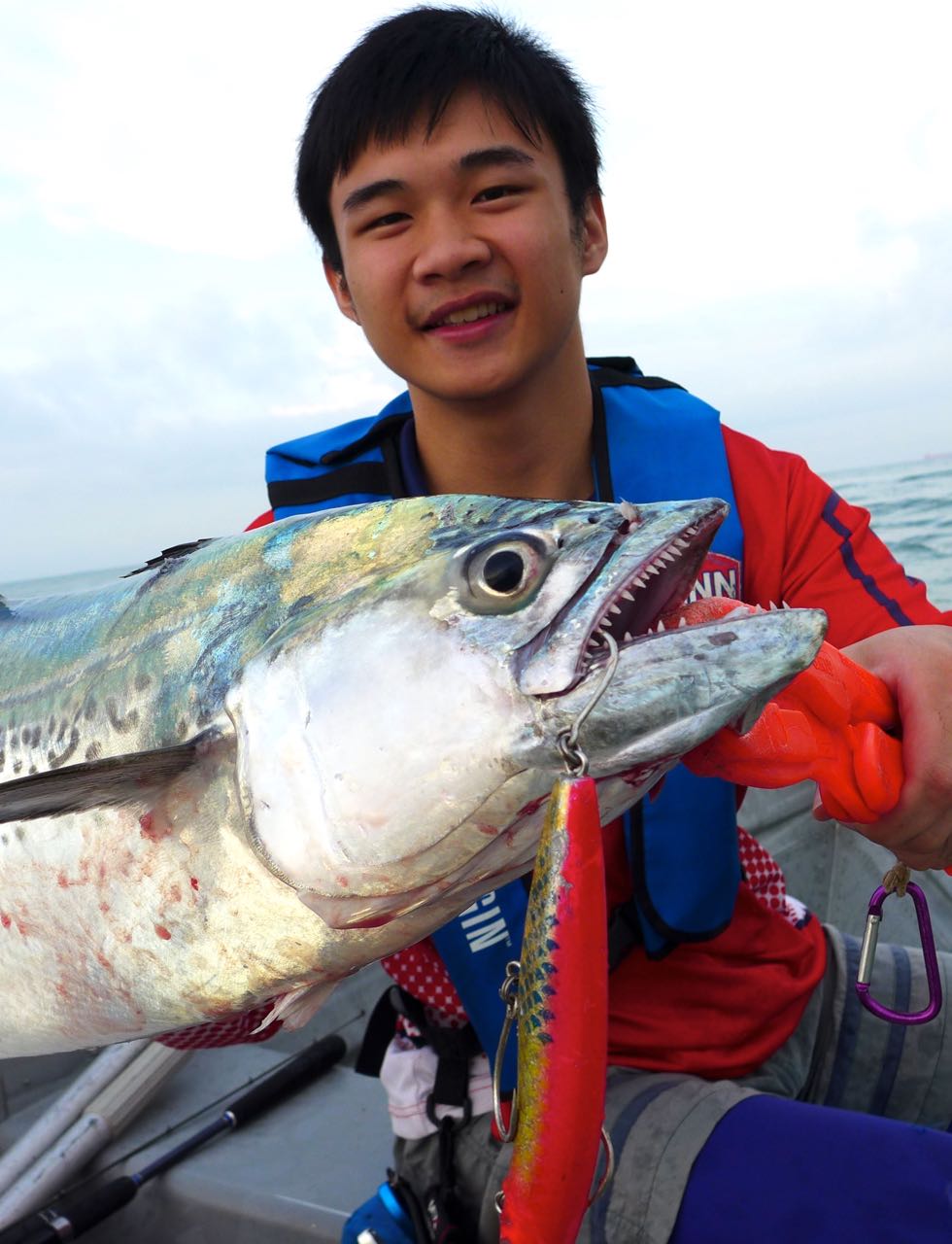 Shortly after that, my son hooked up another as he cranked his Halco Sorcerer 125 through a school of tamban baitfish. After a good tussle and truly tiring it out, he brought his catch to the boat and this time I gaffed it and landed the tenggiri papan successfully without any drama.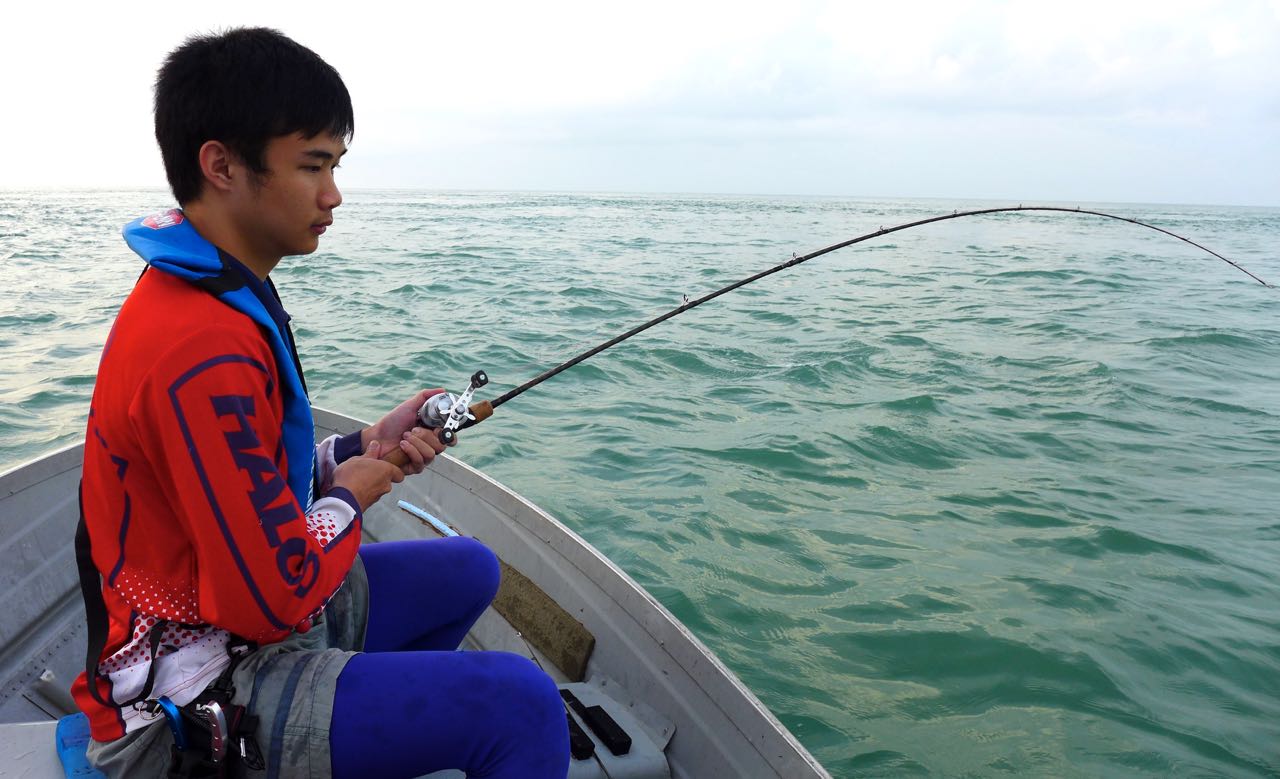 These large tenggiri papan were caught where there were large schools of tamban baitfish (flat sardine-like with a lot of shiny scales) next to rocky drop offs. They were obviously lurking in those areas to forage for food.
Interestingly it was the same reel that landed these big tenggiri papan, an old Abu Garcia Revo, one of the first generation Revo Inshore models which has good line capacity. Its deep spool had about 200m of 20lb braid (Spiderwire Code Red) which made it suitable for inshore work. Any reel you use should have sufficient line capacity and a good drag - a drag that is reliable and releases line smoothly.
The rod on which I caught the first big Indo-Pacific king mackerel on was an old Cabelas FE2 12-20lb rod. The following catch was on a Fenwick Techna AV-X 10-20lb rod.
For inshore fishing I typically use a 30lb mono leader and these days I just use nylon mono as I find no difference in bite rates between nylon and fluorocarbon mono.
The eating quality of the tenggiri papan is good, like its well known cousin, the tenggiri batang. We steamed the tenggiri papan's head and it was delicious; the flesh was fine and sweet. The rest of the fish was cooked grilled or pan fried, typical styles similar to those used with tenggiri batang and was also delicious.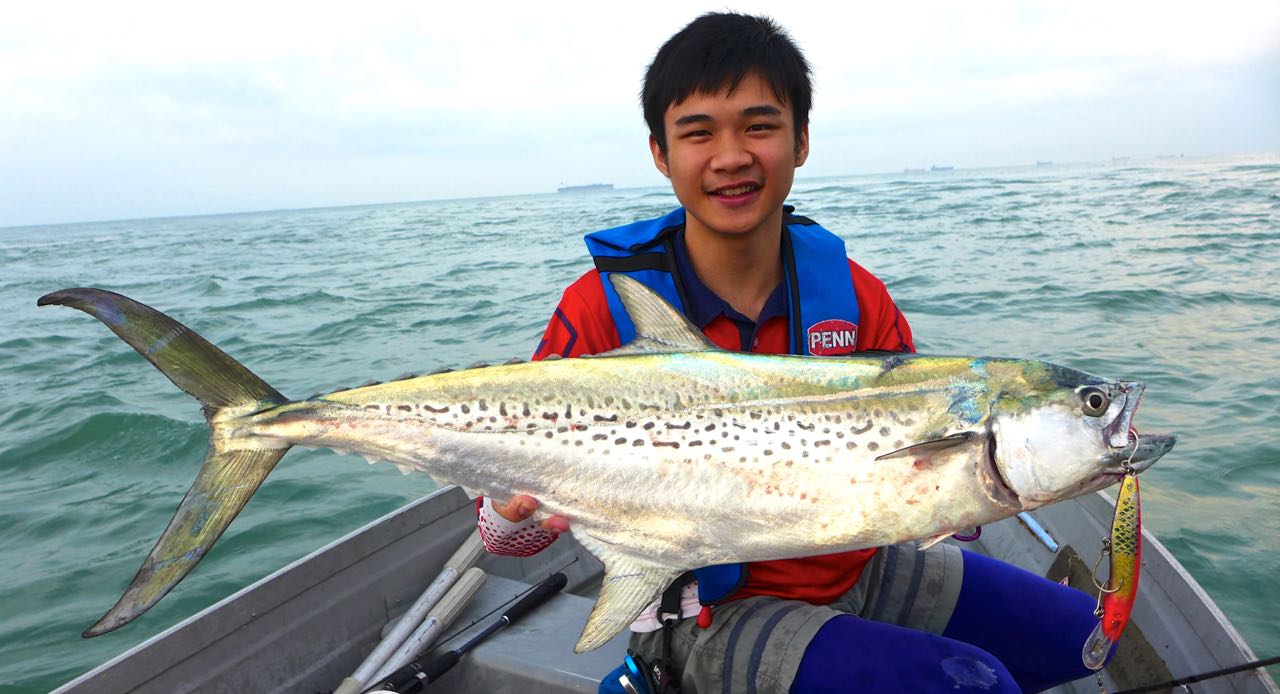 Conservation


We need to protect and conserve our resources by practising catch and release of our sportfish and protecting the habitat of our fishes.
Success Stories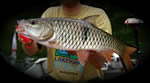 Contributions in the form of pictures and articles are more than welcome.