Hampala Barb of Borneo
It is funny how some fishing trips come about. In this case the activities and negotiations between Malaysia Airlines and Air Asia early this year unexpectedly ended up adding an "overseas" fishing trip to my itinerary. These upheavals in our local airline industry resulted in MAS planning to close down their bases in East Malaysia. My fishing buddy Peter who was posted there late 2004 by MAS had been bugging me to come over to fish with him. The catalyst resulting in my travelling over there was his imminent transfer back to the peninsula due to the tussle of route rights finally being won over by Air Asia.
It was my "last chance" to fish with him in head-hunter waters. So after a flurry of phone calls we decided on the date for a "flying visit". The leave was applied for and flight bookings were made. Two months later I was winging my way to Kuching. During check-in I was told by the girls in bright red that my 2.5 foot long tube filled with my custom made 3 piece rods were considered dangerous weapons. I suppose to the fish they would be offensive weapons but from my own perspective these were "fragile" tools of my hobby. If they were to be used to attack another human being, they would definitely end up in more than 3 pieces! However the staff in red were helpful and we managed to come to a safe travel arrangement for my delicate 3 piece rods.
I arrived at the waiting lounge about 40 minutes before the departure time and found a seat. Five minutes later I suddenly found an orderly queue forming at the gate. I found it amusing, as it was still very early before boarding was to begin. As I was travelling alone and light, I figured that finding a seat would not be a problem. True enough they only started boarding 15 minutes later, and 30 minutes later I was the last on board and found the sole remaining empty seat near the front.
On arrival in Kuching, Peter picked me up and we met up with Alister for dinner and some chat, before proceeding to Peter's house to load the boat and gear into Peter's 4x4. Peter said his cartopper always elicited a lot of stares in Kuching as cartoppers were a rarity here. If one had a boat at home it was trailered. There are lots of public access ramps for launching boats here, unlike in the Peninsula, so there was no need for cartoppers in this area.
Voon joined us to load up the gear and the four of us set off after midnight from Kuching. I do not remember much of the journey as the guys will testify that I was sleeping most of the way. We had an early breakfast at 4 am of fried noodles just outside Sri Aman. It was still before dawn at 6 am when we arrived at Batang Ai dam. When it got light enough we went down to the boat ramp where there were a number of locals waiting for their farmed fish from the cages to be delivered.
We unloaded the boat and gear, and while Voon and I waited for the the chartered long boat where Alister and Voon would be fishing from, the other two went to pay their respects to the local Headman with some liquid gifts as he arranged the boat and long house stay for us.
Voon and I had a good view of many long boats coming in with their produce that varied from jungle products to fishes and a civet cat. It was also the end of the Gawai festival so there were many long boats ferrying passengers leaving their home long houses to return to work. At long last our long boat turned up and after greeting our two boatmen we departed.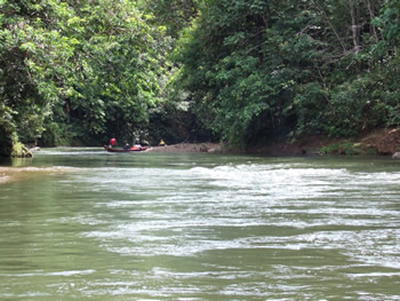 Our destination was Batang Ai river, considered to be the most productive area of this dam. As we headed up the arm we were on the main thoroughfare, a water highway, as longboat after longboat passed us, ferrying out the locals after their Gawai celebrations.
A sudden flurry of action saw Peter and me heading to a far left bank. The splashes looked attractive but we could not get anything to bite. All the way up we stopped here and there to try and entice the splash makers to eat our lures. Supposedly there are toman and tapah in these more open and deep waters. However none of the splashes or rises we saw was definitely "toman-ish" and we concluded that all that action we saw was made by the millions of kalui found in these waters.
Passing by the long house where we were supposed to stay the night, we headed on up to the estuary of Batang Ai river, passing a school and a clinic, then some very nice Department of Forestry chalets. By now we were cruising over the old river bed with steep banks and with small streams flowing in. The water was a bit murky here compared to the crystal clear waters in the main dam. The heavy rains the last few days must have brought down a lot of suspended matter. At one point we came across a long stretch of very old floating timber, requiring us to navigate slowly through this hazardous waterway.
Once we cleared the hazardous section, the water slowly cleared up. It was still a little cloudy but no longer murky. We wondered if the fishing would still be worth it with the water no longer crystal clear. Peter's and Alister's previous trip had clear water with a good number of sebarau caught. They had regaled me with tales of sebarau caught, lost hook ups, and numerous follows from their previous trip on the drive up.
We continued to slowly make our way up the submerged river bed beneath the over hanging virgin forest, stopping here and there to cast at a likely spot. The results always ended up to be zero, not a single fish in sight. The river got shallower and we finally reached the upper reaches where Peter's fibreglass boat could no longer navigate up and decided to have an early lunch.
The two Ibans quickly swung into action, looking for bamboo to cook our meal in.... yummy! It's been awhile since I have had a meal cooked in bamboo, but I always remember it as a delicious dish. They prepared the bamboo receptacles, firewood and leaves to cover the bamboo opening.
Alister in the meantime prepared the rice the modern way in a pot over a compact gas stove. The chicken was placed in the bamboo "pots" and leaves were stuffed in like a pot cover. While Voon and I just dawdled around making ourselves useless, Peter got out his rod and cast and cast at the small lubuk opposite our gravel bar. After many casts he hooked up a adong! This was the first fish of our trip, so it might not be so bad after all! The sebarau here are called adong.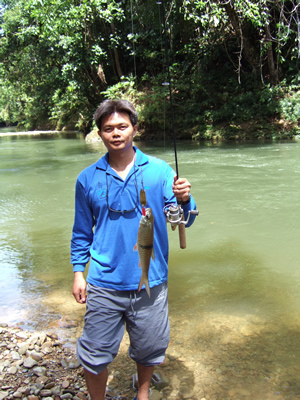 The chicken bamboo lunch tasted delicious and after lunch we decided that the longboat should head further upstream where the sebarau might have moved up. Peter and I headed back down and continued trying past ground. If the fish were found to be upstream, the next day, the four of us anglers would pile into the longboat and fish upstream.
So Peter and I drifted down with the current, paddling now and then to keep the boat straight or from ramming into rock walls. We cast and cast, and as I was casting to a nice woody snag, a juak suddenly appeared and slammed my lure! It was small but tough, just like the sebarau in the Peninsula. The locals call this a juak, which I guess it is a sebarau except it has slightly different markings. It has 3 black vertical bands whereas sebarau normally have 1-3 blotchy marks. That catch raised our spirits a little.
Two bends down the river, Peter had a nice hit from some fallen branches just after a point. It was also another juak, his first. He said that on the previous trip, they did not catch any juak, just adong. This was one of spots on the previous trip where he had several large sebarau going after his lure but not hitting.
We continued down the river, and then back up again working the same two snags where we had the bites an hour earlier, but with no success. It was tough fishing. There were obviously a few fish around but they were not in a ferociously hungry mood. Where had the masses of sebarau Peter and Alister had previously seen gone?
By mid afternoon we were hot, sleepy and tired. We parked ourselves in one of the many shady spots and stretched out (almost) on the bench seats of the boat and took a nap. I woke up feeling my leg getting bitten painfully by a sandfly. In addition we suddenly found 3 long boats passing by us. They were all casting nets along their river. Their target was the local tengadak, what looks like "lampam sungai" to me. These fish were in abundance along the river. We could see the schools moving up and down, splashing and feeding.
Shortly after that, Alister and Voon drifted past us. They signalled they had caught kilos and kilos of fish..... with the cast net. Bakak who was in the front of the boat had just cast the net in midstream and felt his net full of fish. We "unparked" ourselves to take a look. While they unloaded the fish and transferred some of them into our icebox (theirs was full) they said their reconnaissance upstream was unsuccessful, no fish, and also they were told they could not go further upstream by the "gate keeper" at a long house along the river.
We discussed strategy and decided to work our way downstream all the way back to the long house, in the rain. It had now started to rain, and rain. The light rain continued for almost 2 hours. We worked all sorts of fishy looking snags and small stream mouths. Every location was zero except one grassy stream mouth that Peter had a follow from two sebarau.
We finally called it quits about half an hour before sunset and docked at the long house jetty. After all our gear was stored in a shed next to the jetty, we settled ourselves in the long house. We had the luxury of piped running water from a nearby stream to clean up with, and even a flush toilet outside the long house.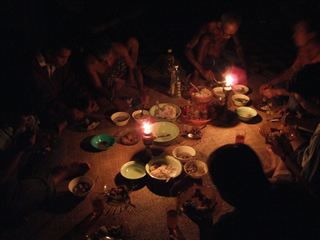 The long house was quiet as many people had left after the Gawai festival. Our dinner was prepared by the headman's wife. We had freshly grown veggies, cooked chempedak and 2 chicken dishes (we supplied the chicken). However before that we had hot sweet tea and crackers. Then after dinner we had a round of "tapai". After that we managed to excuse ourselves to get some well deserved shut eye in the communal area. The friendly dogs had been chased out to sleep outside with the chickens and "wild" pigs and piglets. Our hosts kindly provided us with mattresses and pillows. What luxury!
Early the next morning, we were raring to get going but courtesy required us to sit down and have tea and crackers they had brought out prior to our departure. We thanked our gracious hosts for their generous hospitality and made our way down to the dock to load our gear and make our way back up the river to see what the new day held.
It had rained heavily in the early hours of the morning and we were greeted by millions of mayfly type insects fluttering above the surface. Most of them seemed to be making their way upstream. Those that fell on the surface of the water became food for multitudes of small kalui that are so common in these waters.
We went straight past the floating log "garden" as far as we could go, then started to drift down the river, casting to snags between paddling the boat to keep it centred along the river. The snag that gave me my first juak produced nothing for us. Lower down, just before the snag where Peter caught his juak, there was a shallow point where some bamboo branches had fallen into the water.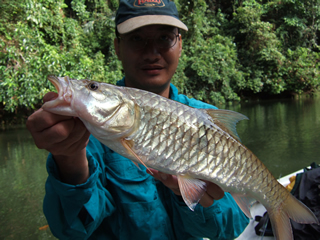 I dropped my tilsan bass in on the front of it and on the retrieval back I felt a mysterious little bump. It was suspicious, as there was unlikely to be any objects the lure would bump against away from the bamboo. It could have been a fish, so on the next cast I twitched the lure in the hope of aggravating a strike. Immediately I was rewarded with a resounding thumping strike and hard pulling. It felt like a good sized sebarau. When it was finally brought in, the fight turned out to be bigger than the fish, but it was a adong anyway.
The snag where Peter had his juak also produced nothing. Then we worked some beautiful little streams running into the river. One was a small but majestic water fall. It looked like a very likely place for some small sebarau but we got nothing except the enjoyment of appreciating the beautiful side of nature.
We moved back up to try the fallen bamboo branches again. This time I placed the lure right at the junction of the front of the branches and the bank. I started twitching the lure and felt some nudging. Every twitch resulted in a nudge, it was like bumping against some twigs or leaves. I continued working the lure for another 4 twitches before it was slammed! The sebarau must have been nudging the lure before it finally decided to eat the wooden tilsan bass. This one was a little bigger than the first.
It was obvious that this would be a tough day. The very few fish around were being fussy and the lures presented to them had to be worked hard to entice them to hit them. Though we worked hard all morning there were none to be found.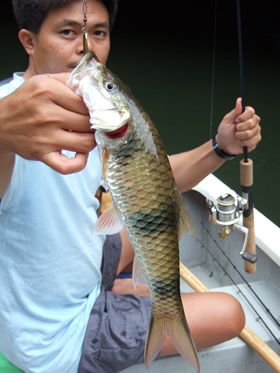 After lunch, Peter managed to get a juak from the snag where I got my juak the previous day. It was obvious again that the fish here were not in an enthusiastic biting mood and his was caught on a gold spoon taken on the drop after cranking it away from the snag. It actually happened by chance as he had been standing and had stopped cranking to sit down when the juak hit the spoon that was falling.
The schedule after lunch was to continue working out into the main dam before meeting for departure at the boat ramp. So we worked our way out. We saw sebaraus follow Peter's lure at the same grassy stream mouth with the same negative results. We worked some very prospective snaggy stream mouth with not a sign of fish except the ever prevalent small kalui.
Batang Ai river is considered by the locals to be the most productive river for sebarau in the dam. This is probably because the upper reaches of the river from part of the national park where fishing is not allowed. So the downstream areas we fished get the wandering fish that migrate downstream out of the protected zone.
Conservation


We need to protect and conserve our resources by practising catch and release of our sportfish and protecting the habitat of our fishes.
Success Stories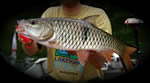 Contributions in the form of pictures and articles are more than welcome.