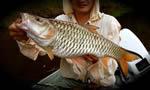 This website is about a great gamefish in the South East Asian region.
We would like to have more support and conservation from anglers and fisheries managers to continue to ensure this gamefish and it's diverse habitat.
Hampala macrolepidota





Conservation


We need to protect and conserve our resources by practising catch and release of our sportfish and protecting the habitat of our fishes.
Success Stories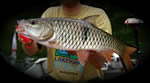 Contributions in the form of pictures and articles are more than welcome.