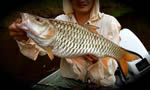 Sebarau Resources
This website is filled with information about the Hampala spp (Hampala barb, jungle perch, adong, juak, kasoop) or as it is commonly known in Malaysia:- Sebarau.
Anglers or even naturalists wanting to know about this outstanding sportfish can visit here valuable information that sport anglers glean from their experience in searching for this fantastic sportfish.
We have also be listed other lure eating fish species common to Malaysia which can be found in the"other species" link.

Added:

25th Nov 2021 - Updated Revo Beast Rocket Family species application review with a beasty monster catch. My thoughts on this light tackle reel's performance. Video link of the reel in action here too.
26th Oct 2021 - Using the high speed Halco Max 110 to catch Tenggiri (Narrow-barred Spanish Mackerel)
10th Dec 2020 - Nile Perch fishing experience, Murchison Falls, Uganda
10th Dec 2020 - How to use Circle Hooks
19th Aug 2020 - Revo Rocket Family species Application
7th July 2020 - Belida by-Catch
26th October 2018 - Murum Dam, Sarawak, Malaysia
16th August 2018 - Single hook fishing for Pelagics
27th July 2018 - Abu Garcia Revo Ike, first impressions (revised 2020)
26th July 2018 - A Hard Time at Bakun Dam Sarawak hunting for sebarau.
25th May 2018 - Active Response Drag Mechanism by Abu Garcia for Revo Toro baitcast reels. View the benefits in this video.
26th December 2017 -Toothy Delights - more on fishing toothy creatures, the narrow-barred spanish mackerel (tenggiri) and barracuda.
10th October 2017 - Fine wire hooks, can we use them for our tropical fish?
25th August 2017 - Take a look at the new Abu Garcia Revo MGX2 and compare it with the previous MGX.
7th August 2017 - Some anglers believe solely in using treble hooks for lures, but do singles work well for hooking toman? Read about it here.
30th June 2017 - Video of fishing the Hampala bimaculata species, endemic to Sarawak (Borneo), Malaysia. Click picture to view video.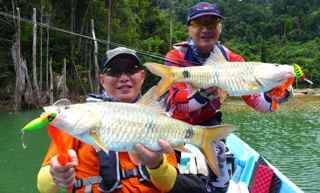 Hampala macrolepidota





Conservation

We need to protect and conserve our resources by practising catch and release of our sportfish and protecting the habitat of our fishes.
Success Stories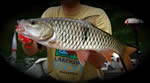 Contributions in the form of pictures and articles are more than welcome.