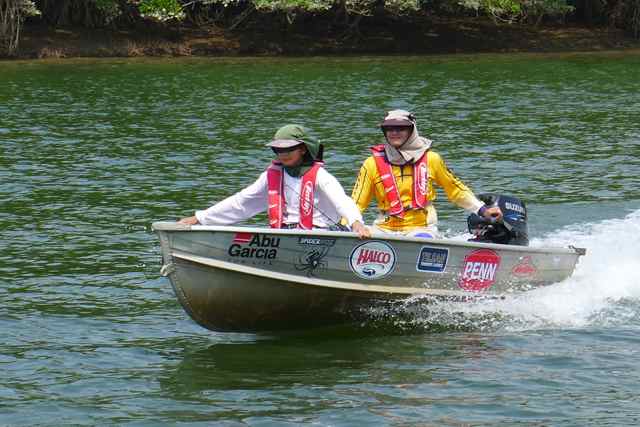 Toothy delights
by Christopher S.G. Tan




We arrived over the shallow reef and the three of us tossed our lures out back. With the motor puttering just above idle our trolled lures began transmitting their vibrations to the rod tips. It did not take long for those vibrations to turn into little taps from predators interested in my lure!
Then suddenly my rod buckled over and I was onto a fish! This one felt stronger than the normal hook up. The run and fight was firm and solid. When we got the fish boatside the shape of the tail fin and the vertical bars made it out to be a tenggiri! This was great! Tenggiri are fine eating fish and good fighters too.
It had been some time since we had seen tenggiri at this reef, so it was good to see them returning. In fact for the past few years this reef had been almost dead, and we had stopped coming here to fish. Last year during an exploratory visit we saw some life returning and thought that it was worth a visit this year to see how it was coming along.

*Justin is happy with his tenggiri caught on purple Halco Hamma 85
Our first visit after a year saw us hook up some barracudas, both on casting and trolling. However at this locale, the barracuda seem to be experts in unhooking themselves. We would hook them up, fight them for a few seconds and then they would come off. It was not so bad when the small ones were lost but it was painful when the big barracuda I hooked up did a corkscrew dive right beside the boat, twisting off the lure.
On one trip, Justin was out-fishing us in casting and trolling, using a Halco Sorcerer Skinny Deep, hooking up small barracuda after small barracuda. However they just kept coming off the hooks! Justin probably only landed 1 for every 5 he hooked. We just looked on with envy every time he hooked up one.
Generally the fish at these shallow reefs are most receptive to small lures from 8 to 11cm in length with very pronounced vibrations. The lures we use should also be able to take a fast retrieve so that they can be multi-purpose, because in addition to being cast lures, they may need to be trolled at a good pace.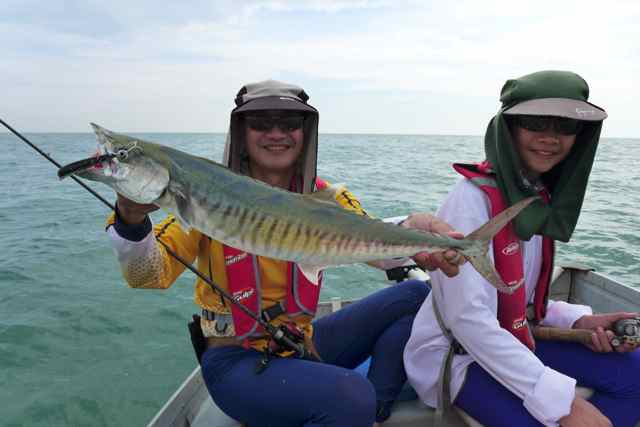 This year we had a few new lures to try out and the most successful was the Halco Hamma 85. The key to its success was its good strong action and its length of 85mm. It was a firm favourite with the toothy fish here. Many of the other new lures I brought did not fare as well because they would not track true at speed. Another successful new lure was the Abu Rocket Minnow, and I will say more about it later.
As the fish would be lurking over shallow waters which were at times only two metres deep, the lures we used most often were shallow runners. Occasionally we pick them up at the deeper drop offs when we use medium depth diving lures of about three metres.
The fish have their favourite spots along the reef where they like to hang out so we would troll along the reef searching for these points. Sometimes one person would get a bite or tap without a hook up, but seconds later another troller would hook up! Either it was an enthusiastic solo predator moving from one trolled lure to another, checking the lures out, or it was the work of a school of predators.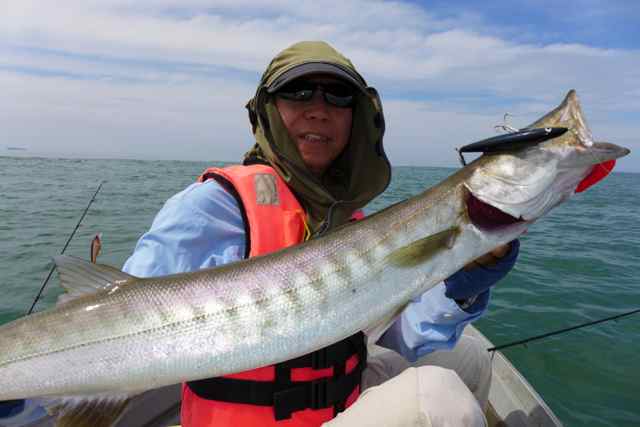 We mostly would get single hook ups on the troll with the occasional multiple hook ups. It was more common to get the multiple strikes while the other trollers were quickly winding the lures to clear the lines to prevent any tangles. This is probably because of the pause in the lures as the boat slows, which is followed by the acceleration as the anglers start their retrieve to clear the lines that triggers the fish to instinctively strike!
Having multiple hook ups is quite exciting, but handling two or more fish armed with razor sharp teeth by the boat can be rather daunting, especially if they are rather green. Probably the best way to keep things under control is to keep the engine in gear, having the boat continuously move forward.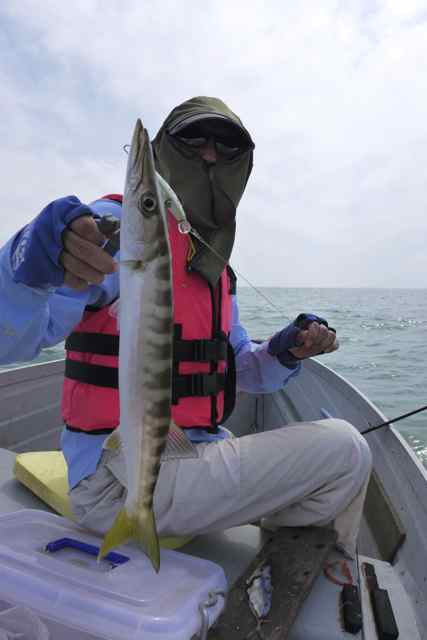 This keeps the fishing swimming forward in one direction as they tiredly reach the boat. If the boat is static, they tend to swim in all directions, therefore they are harder to control and get at. The fish then can be lipped if they are to be caught and released. This is not exactly an easy exercise as the head has to be lifted out of the water and they can easily jump and do some damage to some nearby soft tissue.
The larger fish can be lip gaffed for catch and release whereas those fish for the frying pan can be gaffed in the body. The smaller fish for the frying pan can be lifted quickly into the boat and dumped in a safe area. I normally bring them straight into the rear area between the transom and bench seat, where the fish can be left to thrash.
Multiple hook ups can also be achieved by stopping the boat when one of the anglers tells me he feels his lures getting tapped regularly. The boat is stopped so that we stay in the locality, as obviously there is school of predators holding in that area, tapping our lures out of curiosity
Then we cast to the rear of the boat and vary our retrieve. If one of us hooks up, it often results in someone else getting a strike too, as the first hook up can get the other predators into a frenzy to strike the other lures.
There was one spectacular fight I had where when we felt the lures being tapped, I put the engine into idle and we started casting out back. Then my lure had a hit and the fish hooked up and took off! It just kept ripping off line continuously from my Abu Revo Rocket baitcaster. With a third of the line out of the reel, I had to engage the engine into gear to turn the boat around to chase the fish to get some line back on the reel.
It felt like a tenggiri, and the way it powerfully and relentlessly took the line of the reel, made me think that I might have a trophy hooked up. After a lot of cranking, the fish was finally brought in. It was a tenggiri but it was not a trophy sized one! It was an average sized one for this area. The reason for the very strong fight was that it was hooked right at the "wrist" of the tail. I felt quite deceived; I had earlier ecstatically thought I had hooked up to one of the rare big fish in this shallow reef.
I normally prefer to use lures (shallow divers) with strong actions like the Hamma and Sorcerer skinny deep, because they seem to get the most attraction. However after some time into the fishing session using these "loud" lures, the bites taper off. I figure that maybe the fish have gotten suspicious of these "loud" lures.
I then found that sometimes, by changing to quieter lures like the new Abu rocket minnow for trolling or casting, we have been able to re-ignite the action. I guess the fish are like us and need to have variety in their prey too!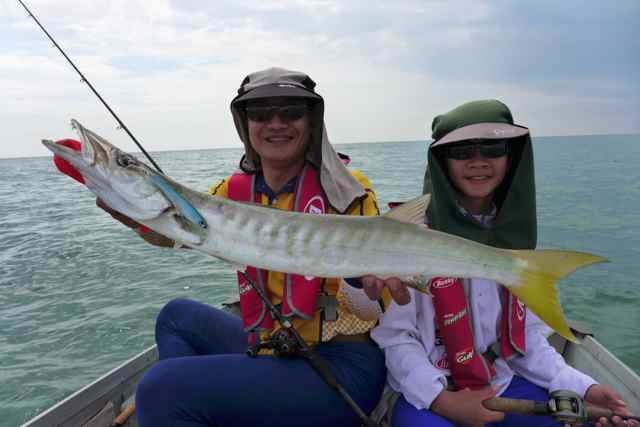 We used baitcasters and spin reels spooled up with 15lb tracer braid to fish these waters. The mono leaders were between 20lb to 30lb test, depending how much "insurance" is wanted. Often I might change out the hooks on my lures, but for these species of this size, I found I could leave the original hooks on, as they are strong enough. The original hooks are also finer than the stronger hooks I normally use and might even give a better hook up rate due to better penetration.
Currently I use a Revo Rocket paired with a 8-17lb Abu Villain rod and Justin uses a compact Revo ALT paired with a Cabelas FE2 10-17lb rod. Both rods have plenty of power in the backbone in reserve if needed.
Conservation


We need to protect and conserve our resources by practising catch and release of our sportfish and protecting the habitat of our fishes.
Success Stories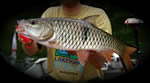 Contributions in the form of pictures and articles are more than welcome.