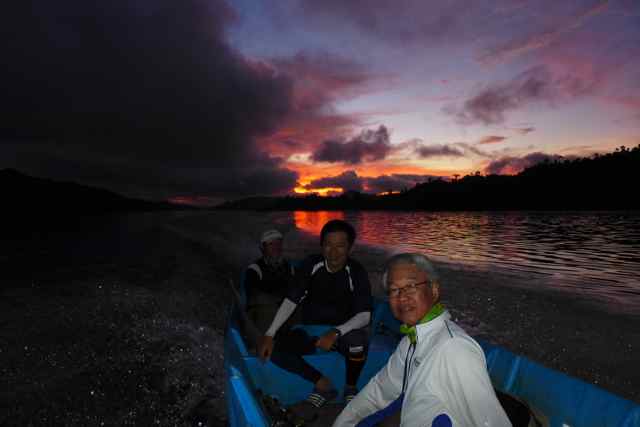 A hard time at Bakun
by Christopher S.G. Tan


This was my fourth visit to Bakun Dam, Sarawak, East Malaysia. Like every trip here the fishing was different. On each trip we seem to have to modify our techniques or seek out new fishing venues. It seems to be a very dynamic place and we are never able to settle down into a comfortable groove.
In fact during this trip we had to find new fishing holes as the conditions changed. The rivers and streams were still there but places that were once productive were no longer producing fish. We also had to put in long hours to get the fish. I was glad we planned this trip to be a three night trip instead of our normal two night trip as a two night trip always seemed rather rushed. The extra day allowed us to review the first two days fishing and consolidate what we learned to use on our final day.

C.S. Fong and I arrived in Bintulu on the first flight and Mike picked us up at the airport. Then our 4x4 transport picked us up at Mike's house just before ten o'clock. We stopped for lunch at Anding and then continued on to Bakun Dam. By 2 o'clock we were on our way to Richard's floating lodge.
Once there we got ourselves unpacked and organized. Before five o'clock Mike and I had each gotten onto a fish. Mike's small haruan fell for an Abu Atom spoon he let flutter down enticingly in front of a small steep stream. I managed to get a decent haruan with a Johnson minnow spoon tipped with a Powerbait ribbontail grub. I had cast to a stand of trees in shallow water.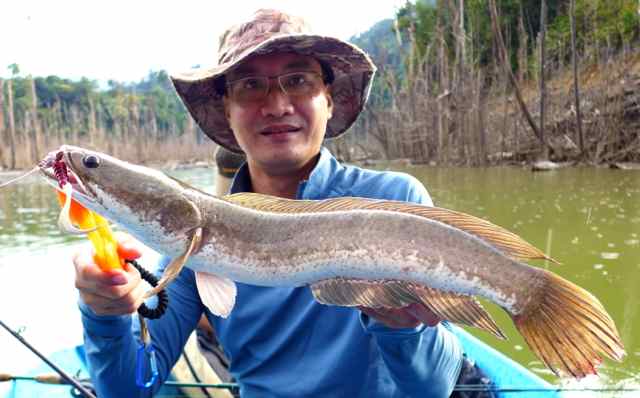 All this water was new to us. Richard had warned us that the water level was lower than our previous trip and all the fish holding structures we had previously fished were now high and dry. We were also forewarned that the fishing this year had so far been tough with fewer fish caught.

As we made our way upstream to the river mouth all the warnings were now becoming reality. Other than a few small fish (sebarau?) trying to hit and bump our lures we did not hook any up. When we reached the river mouth, Richard pointed out a tributary further up where we had had very successful fishing on a previous trip. It was now high and dry.

Mike managed to score a small sebarau on a spoon right where the river flowed into the dam. It was one of those times when he out fished all of us. No matter what we threw we did not manage to get another fish. Then to rub salt into our wounds, Mike pulled out another small sebarau where we had all been tossing our lures.

To make our mood worse, a fellow tribesman of Richard turned up and gave him some bad news. He had come to the river mouth to catch small baitfish when they came out in the evening for his setlines. But the past two weeks there were no baitfish playing in the river mouth area in the evening. Today, the baitfish still did not make an appearance. It seemed that two weeks ago, a large number of fish were found dead here. He suspected that the river had been poisoned upstream.

That certainly threw a spanner in the works. We knew the fishing would probably be slow in the dam as reported by Richard, and our trump card was supposed to be fishing in the river as Richard had said the river still had good fishing!

Our mood was a bit subdued for the rest of the evening as we considered our options for the next day. The original plan was to fish the river if it was not dirty and flooded, but in view of this information we decided to fish the dam instead.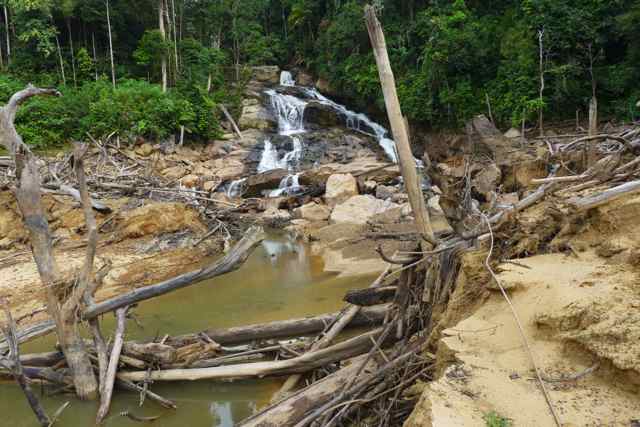 We would have to look for new fishing holes. Many of the old streams were down to a trickle and the fish holding snags at the stream mouths were no longer covered by water. We would have to travel far and wide to search for fish holding spots.

First thing the next morning we headed to a distant location, a good forty minutes away. It was a place we called the waterfall. On previous trips there we had limited success. The first time, the water coming down was dirty, but we managed to get several fish including a good sebarau. The second trip saw a flood of muddy water pouring down and the only fish caught in the vicinity was a baung.

This time, the waterfall was flowing clean but as the water level was low, the waterfall was a hundred metres from the dam water level. The place looked good as we cast to several places just where the water entered the dam but it was very quiet! We saw some fish come to inspect our lures, but they were kalui, curious fish but not normally lure eaters.
After several minutes of casting, Fong suddenly had two sebarau follow his spoon just at the stream mouth. Several casts later, I too had follow from the same spot. During this time, the four of us were casting in all directions. Any likely looking spot was game. So in the midst of casting all over the place I would continually revert to casting to this stream mouth.

This corner had water flowing over a shallow sand ridge before suddenly dropping off into the depths. There was a small copse of shrubs in those depths that I suspected was where the sebarau were holding in. This was a typical sebarau hole – a drop off at a stream mouth with good and solid structure next to it.

I finally had success when I cast just above the drop off right against the cliff wall. Just as I started cranking the 18gm Abu Island spoon back there was a silver flash as a sebarau came out of that structure to hit the spoon! There was weight behind this fish as it doggedly fought. Fortunately it had headed into the middle of the stream mouth where there was a plain sandy bottom clear of any structure.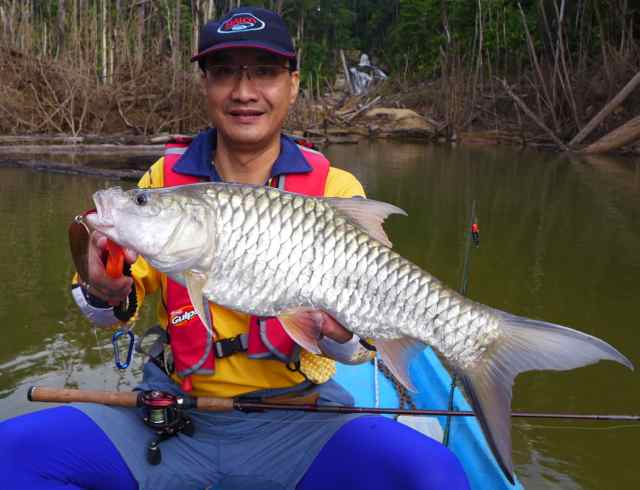 Buoyed by the recent success we continued our casting around the stream mouth. There would definitely be more sebarau there to entice. We tried everything in our arsenal. Crankbait and spoons of all shapes and sizes hit the water and worked every way possible. Ten minutes later I was onto another decent sebarau.

The same copper Abu Island had been cast to the drop off right next to the structure. After letting it sink to the bottom, upon starting to crank it, it was grabbed hard! I let out a jubilant grunt! As I fought the fish out of the snags to the boat, I could hear annoyed muttering from those who had just cast there.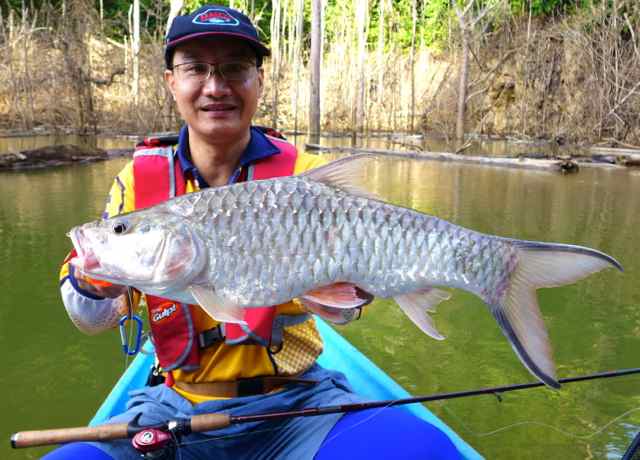 Later we moved up the stream nearer the waterfall. A few small fish were picked off the many snags that litter the stream. We also had a good view of the snags below the waterfall that Mike had gotten his sebarau from two years ago.

When we moved back out the stream mouth Fong got a dongan (double black patch sebarau) that put a smile on his face. This was a good fishing hole, as in addition to the fish we landed, there were also a few good sebarau that were lost due to a snap failure (thin gauge wire) and poor hook ups.

The big sebarau will show up any weaknesses in the tackle. Richard told me that on his last trip, the anglers had the sebarau break the balsa wood bodies off the plastic bibs from a major European brand! Since the tow point was not integrally connected to the hooks that meant the sebarau got away, leaving the anglers only the bibs of the lure!

After two hours we felt that our presence was no longer welcome so we went to a nearby river estuary. When we got there, we found the area full of muddy water. Our repeated casts were met with no results.
That day, we roamed far and wide, covering every stream mouth and estuary Richard knew off. But we did not find any productive holes.
Maybe it was the time of day. The hot sun and heat may have driven the sebarau deep into cooler waters. We did catch an occasional small fish, but none of them were the big ones we desired.

One of the streams Richard took us too was where a month ago he and his friends caught and lost several good fish. But now the water level had dropped, but we did get to admire and examine the type of structure that held good numbers of sizeable sebarau.

Essentially to find the good sebarau, one should fish the right places, where they like to inhabit. The key features of a good sebarau habitat should be a dense and large structure close to a stream entering the dam. Sometimes this is clearly visible from above the waters surface.

At other times we discover these sub-surface sebarau apartments as we explore the estuary areas with lures. By targeting these possible holding areas, we can fish throughout the day, but only when we know where these are, and which of them are productive.

By late afternoon we were quite dejected, aimlessly fishing, just sort of hanging out, killing time, waiting for the evening to come. The last light is a prime time for sebarau at the estuary areas. This is the time they are often out and about hunting the estuary for food. With this in mind we decided to head to the estuary nearest Richard's lodge to fish till dark. This was where we caught the haruan the previous evening.

The trophy sebarau was caught at dusk when we had moved near the shallows. Fong had cast out his spoon tipped with a curly tail grub and commented that he had a very strong tug. Immediately Mike and I started casting to that general direction. Several casts later we suddenly became aware that Richard was hooked up.

The sebarau went into the submerged branches a few times, but in the end he managed to coax it out. It was a trophy-sized sebarau! Richard said he suddenly became aware that all of us were casting to one area, so he turned around and put a cast there too and then got his hook up! I could almost hear grumblings in the air, since we had put in several casts there before he had.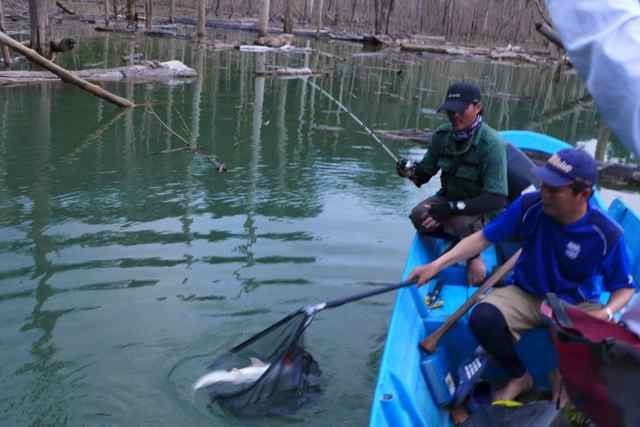 That night we discussed what we should do the next day. We had been to numerous stream mouths and estuaries with poor results throughout the day. We deliberated whether we should take the risk and trek up the river since the dam waters were producing poorly. Since the dead fish were seen, the river had flooded twice and it was hoped that the fish had made their way up the flooded river since then.

Though the signs were not good, there was only one way to find out what the fishing would be like. We decided we would trek up the river to a few of the best fishing holes. That would take at least half a day.
The next morning at dawn we stopped at the estuary, to see if we could coax a few more sebarau to bite. The first indication of any activity was when I had a resounding hit on my small popper. Though the fish did not connect with the popper, that got my heart racing.

We continued casting persistently. This was the same area that Richard got his sebarau the evening before. The persistence paid off. Mike got a solid bite! After he landed his sebarau I had a sebarau follow my Halco Sorcerer 90, unfortunately I could not get it take further interest in my lure and neither could anybody else.

The result of the river trek was dismal. I only landed one decent sized dongan. We caught a few small sebarau but it was nothing like the quantities normally caught here. Richard said certain spots should be teeming with baitfish, but only a few could be seen. We headed back down to the boat and back to the lodge for a late lunch and rest. This turned out to be a good idea.

During our break, it rained. Every trip we have been here, there is never a day when it does not rain. Every afternoon we have to don our rain gear at some point. As Mike pointed out, that is why it is called a "rain forest"! Once the rain had subsided we decided to head out again to try some small nearby streams.

Though some of those tiny streams looked promising we did not have any success. With less than two hours of daylight left, we made the forty minute boat ride to the waterfall that had been so successful the morning before.

When we got there, we found that the water from the waterfall entering the dam was a little murky from the rain. We rained casts down on the previously productive drop off but there was no response. Maybe the murky water had put off the fish? A while later Richard had a hit and a momentary hard pull. So there were fish hiding in there. They just were not aggressive.

We tried every trick in the book we knew of. I used spoons, fast and slow. I dropped them down along side the snag. That did not work. I tried crash divers, large and small, working them carefully trying to get them right down against the bottom of the snags, but had no takers.
Later on Richard managed to catch a sole sebarau. He is a real fishing expert; he manages to pull fish out of places where we could not entice the fish to bite!

Ten minutes later I had an interesting catch! I had cast to the outer part of the snag with a crash diving crazy deep Halco poltergeist lure and after a few slow cranks the lure rolled and surfaced like it had bounced on a snag, but there was a swirl next it.

I carefully retrieved the poltergeist and then noted the dark shape trailing the lure. I paused and it came and aggressively approached the Halco poltergeist. It was a big kalui! I twitched the lure again and again it came to look at the lure in an aggressive manner. I carefully worked the lure and on the third approach it hit the poltergeist and I was on!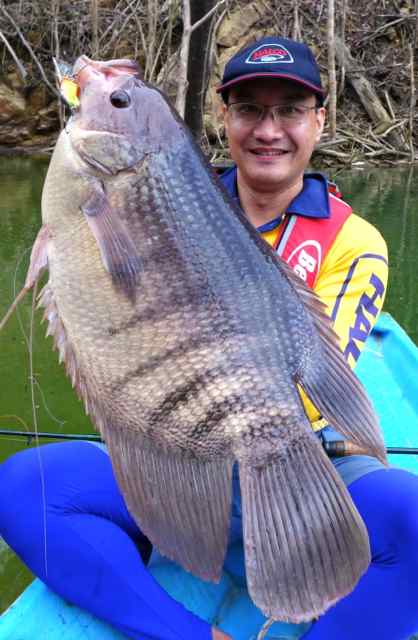 Kalui are powerful fighters and I had my work cut out for me to keep it out of the snags. Fortunately my tackle and drag settings were set to pull fish out of snags and I managed to land this strong fish.

Interestingly enough, when we first arrived here in the evening, a kalui had aggressively approached my lure. I wonder if this was the same kalui. Or maybe the kalui I caught had been knocked by the lure and was annoyed, resulting in its trying to attack the lure.

Later, we headed back to the river mouth near the lodge where Richard got his big sebarau the previous evening. Our aim was to fish at the same spot at the same time and hope we could pull out a few more sebarau that obviously lived among the submerged trees there.

When we got there we were greeted by a mass of floating timber being washed down by a deluge of muddy water. Heavy rain upstream was making its way down in a flood. It would take another two days for this muddy water to clear up. So that was one fishing hole we could discount for the rest of our trip.
At dawn on the last day we headed to the waterfall. Though the big sebarau did not bite the previous evening, we were hopeful that maybe the sebarau were morning feeders. We were greeted by a spectacular sunrise. Richard stopped to take some pictures, as it is rare to view a sunrise here. The low clouds normally shroud the sunrise in the area.

When we arrived at the waterfall, I decided to use a green Halco Sorcerer 90. Green seems to be a favourite colour here and on this trip the sebarau seemed to like the larger lures.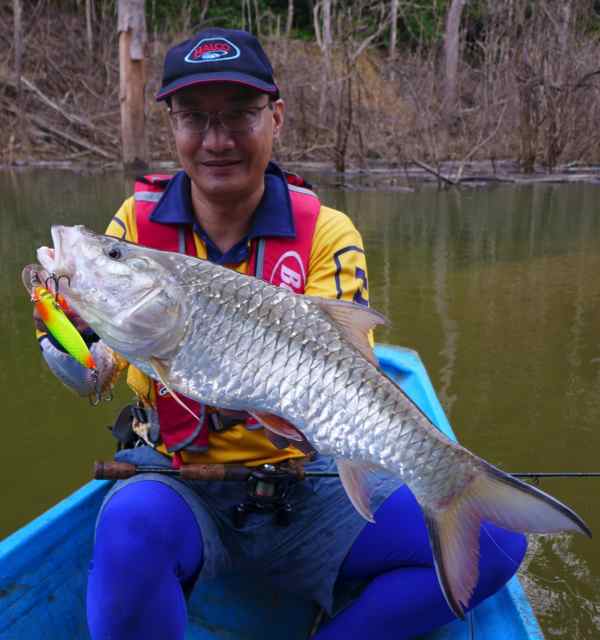 As usual the place took some time to warm up. It took quite a lot of casting to get the first bite, and I was the lucky one. While we were taking pictures of the fish, I noticed Mike and Richard were blanketing the spot I had hooked up with casts.

Once the fish was released, I cast to the same spot and got lucky again! I could here rumbling of discontent emanating from the other end of the boat.

Later as we moved into the stream where there was a nice fishing hole it was my turn to wonder why my lure was ignored when Richard had a hook up. Unfortunately it went back into the logs and cut him off.
An hour later we decided to check out the nearby river estuary while it was still early. Two days ago it was muddy and we did not get any bites there. Maybe today it would be different, and it was, the estuary water was no longer muddy.

We worked some good looking holes with timber but had no bites. As we moved to the river mouth, I suddenly felt a hard bump and announced it. Mike cast to that vicinity and got a bite and then Richard hooked up on the opposite bank. Mike managed to land his sebarau but Richard's sebarau managed to release itself in some snags. Richard was still smarting from the loss of his favourite lure earlier so this was salt in his wound.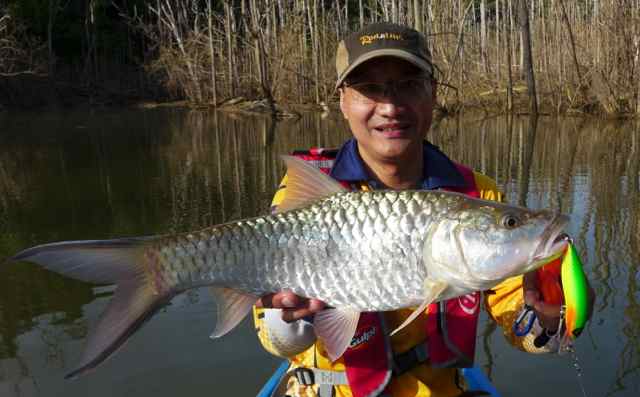 A few minutes later I managed to get a hook up. Then after that the bites were few and far between. Fong managed to pull a sebarau from the same area and Mike persuaded a nice bujuk to bite his spoon. It was hard work, but at least we had caught fish this morning. Fong also had an incident that had a fish crush and mangle his cheap weedless spoon. The fish here are not forgiving if poor quality tackle is presented to them.

By mid-morning it was time to make a move. We had get back to Richard's lodge to pack up and get back to Bintulu to catch our flight in the evening. However we were going to make one last stop at the waterfall.

I decided to use the same copper Abu Island that had worked for me on the first morning two days ago. On the previous unsuccessful sessions I had used the same spoon but in other finishes.

We worked our way along the hole into the stream mouth and then out again with no success. Just as I thought that was it, time to go; I saw a silver flash and the big sebarau hit the spoon! I had been letting the spoon drop right down, then retrieving it at a reasonably rapid pace.
This trip I had been using the fast Revo MGX 7.9:1 and the Revo Rocket 9.0:1. Maybe these fast gear ratios had something to do with my decent hook up rate.

Like the rest of the other sebarau caught this trip, it had taken many casts and retrieves to finally entice it to hit. Fishing right in among the snags was risky and I had to fish with a tight drag and use rods with beefy backbones to give me the best chance of pulling out the snag loving sebarau.

I was fishing with two rods, a six-foot rod (Cabelas FEII 10-17lb) and a six-and-a-half foot rod (Hybrid Fenwick HMG/Abu Hornet 10-20lb). When I was fighting fish to get them out of the snags or power pumping them to the boat, the shorter rod was easier to handle, but the longer and beefier 10-20lb rod still did a great job!

This sebarau managed to get into a snag as I felt it rubbing against a branch. I kept the pressure on and fortunately a few seconds later the sebarau swam out. After a few more powerful lunges that pulled line off the reel though the drag was set firmly, it succumbed and was landed for pictures.

The fishing throughout our trip had been hard. We fished industriously and often came up empty, but occasionally we would find good spots that produced fish. Our last morning was productive and it was a good way to end the last fishing session in Bakun!
Conservation


We need to protect and conserve our resources by practising catch and release of our sportfish and protecting the habitat of our fishes.
Success Stories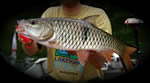 Contributions in the form of pictures and articles are more than welcome.