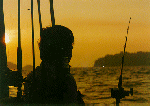 Pulau Sembilan
A marine fishing paradise

Found off the coast of Perak, this group of nine islands (Pulau Sembilan literally means Nine Islands in the local language) provides good marine fishing. Launching points for P. Sembilan are at Lumut and Bagan Datoh.

The islands are rock islands with coral reefs surrounding them dropping to the depths. The depths between the islands vary from 30 metres to 70 metres.

Bottom fishing here produces the normal bottom fish ie.... groupers and snappers. Barracudas, trevallys, queenfish and spanish mackerel are taken on trolling and lure casting. Sailfish are occasional seen at certain times of the year.


---